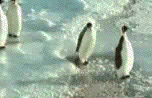 " A penguin
was walking
along the ice when..."
When talking about the past we can use the SIMPLE PAST, PAST CONTINUOUS and the PAST PERFECT. Shall we practise?
Exercise 1
Exercise 2
Past Perfect
(match)
Past Perfect ( put words in order)
Quiz: SPORTS
. Listen to the recording and get ready for the quiz. Can you remember all the words?